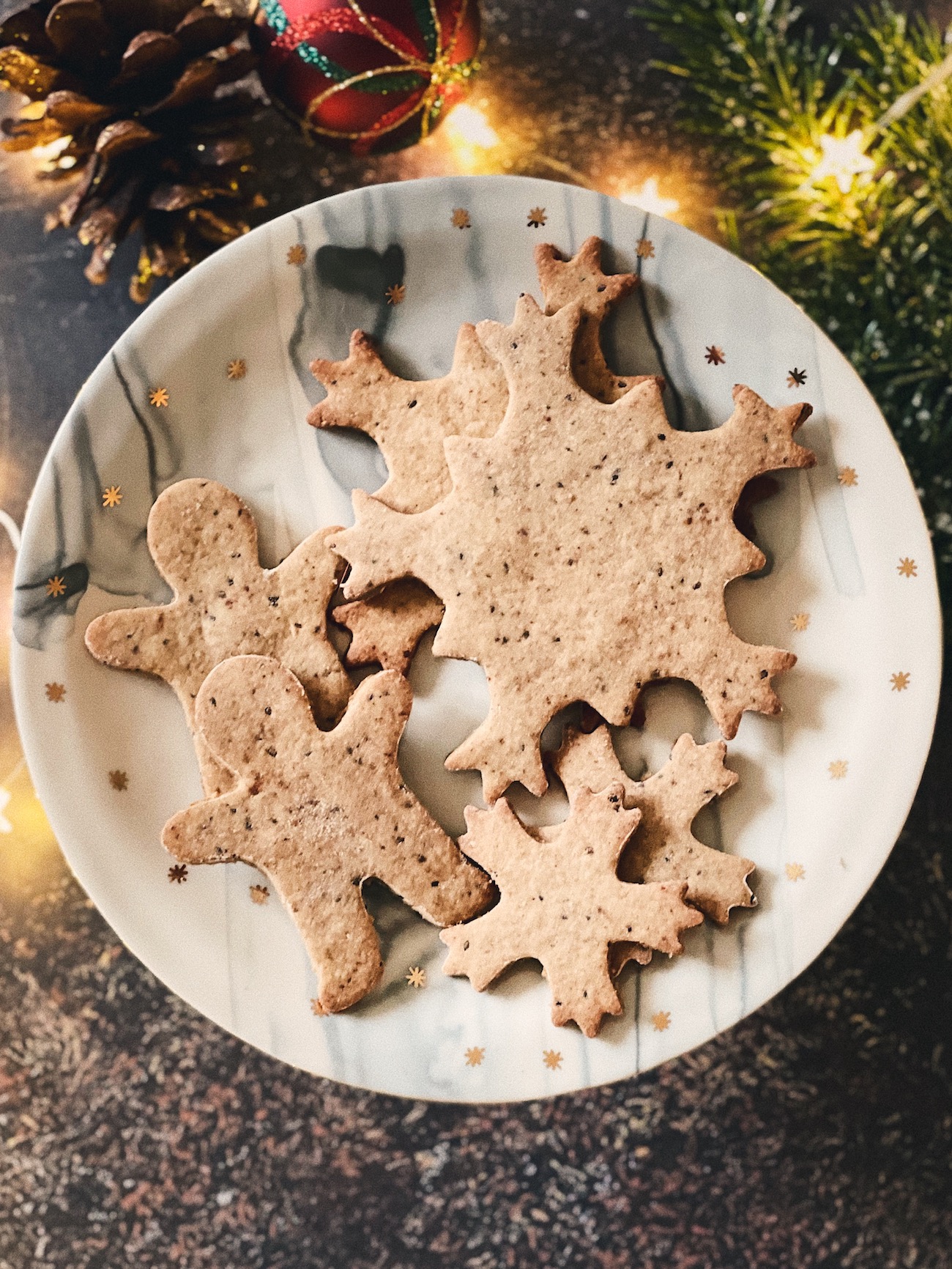 Gluten-free, vegan, and somewhat healthy Christmas cookies! This last-minute recipe is delicious, easy and quick, so you can spend more time eating those little gingerbread men! You can also decorate them with some icing & sprinkles if you'd like.
Using coconut sugar instead of date sugar works as well, but the cookies tend to be a little bit softer with date sugar! Grounding the chia seeds is just a personal preference, it works both ways!
I like to use baking paper for rolling out the dough and cutting out the cookies. It's less sticky and easier to clean.
I hope you'll enjoy this recipe!
Gingerbread Cookies ★ vegan & gluten-free
30 min (+ 1 h for cooling & baking) // 2 baking trays // easy
50 g brazil nuts
100 g almonds (ground)
2 tsp chia seeds (ground)
1 tsp gingerbread spice
80 g buckwheat flour
15 g date or coconut sugar
50 g maple syrup
15 g coconut oil, melted
30 ml water
Ground the brazil nuts finely in a blender (I used my Quadblade food processor).
Add the ground almonds, chia seeds and gingerbread spice to the blender and blend together.
Add the buckwheat flour and date sugar and blend until evenly mixed.
Now, add the wet ingredients: maple syrup, melted coconut oil and plant-based milk and blend until a doughy texture forms.
Transfer to a mixing bowl and, using your hands, form a ball. Let the covered dough sit in the fridge for about 45 min.
Preheat the oven to 170°C.
Seperate the dough into 2 parts.
Sprinkle your countertop/baking paper with some buckwheat flour and use a rolling pin to roll out 1/2 of the dough (about 0.5 cm high).
Use cookie cutters to make the cookies. When you roll out the dough the second time, it's easier to add 1/2 of the rest (so 1/4 of the dough). This will keep the dough nice and moist, without drying out because of the added flour.
Bake at 170°C for about 10-12 min (until the edges turn golden-brown.
They are delicious to eat warm and cold. You can also add some decor, e.g. icing or chocolate.