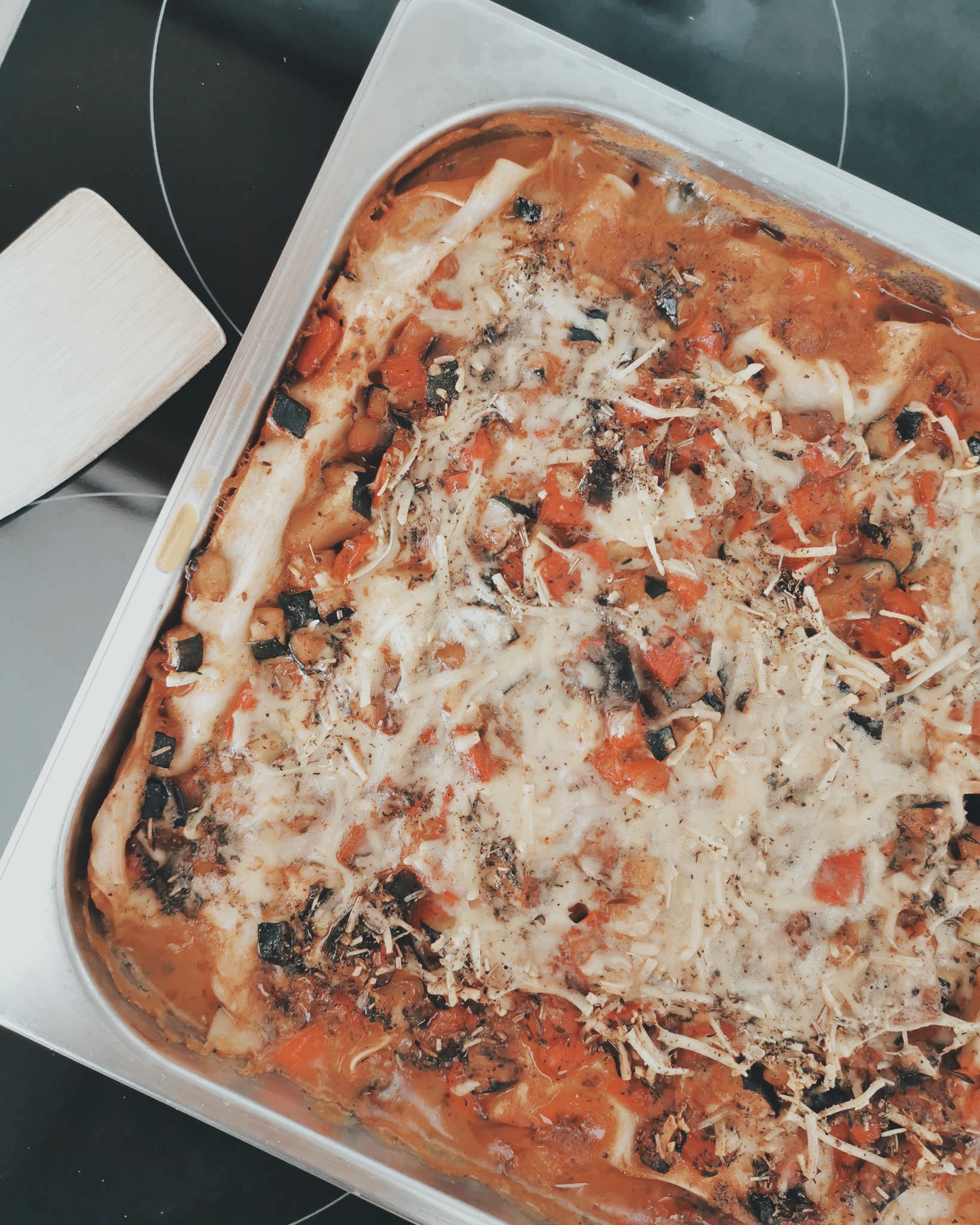 Big thanks to my mum who always cooks up some delicious vegan food for us! This recipe is an all - time favorite (and the leftovers are very nice for lunch the next day!).
I really hope you enjoy it as much as we do

A little tip for the veggie sauce: You can easily replace any veggies with others! For example, if you don't like/have eggplants, no problem! You can add mushrooms, fennel, (dried) tomatoes, celery and so many other delicious veggies to the mix!
Vegan Lasagna
90 min + 60 min baking // 4 - 6 servings // intermediate
#1: Minced Meat Sauce
400 g vegan minced meat
1 onion
1 - 2 garlic cloves
3 Tbl Oil (plant-based)
salt
pepper
italian herbs or oregano
1/2 jar tomato sauce (ca. 180 g)
might need: 100 ml water
#2: Veggie Sauce
1/2 eggplant
2 zucchini
1 bunch of green onion
2 - 3 red and/or yellow peppers
1 onion
2 garlic cloves
3 Tbl (Olive) Oil
1/2 jar tomato sauce
might need: 100 ml water
salt
pepper
italian herbs or oregano
#3: Béchamel
2 big Tbl vegan butter
3 Tbl flour
salt
pepper
nutmeg
100 ml rice milk or soy milk (unsweetened)
2 - 3 Tbl nutritional yeast
#4: Putting it together: Finishing the Lasagna
Minced Meat Sauce, Veggie Sauce & Bechamel
12 lasagna sheets
vegan grated cheese
optional: some vegan parmesan
italian herbs or oregano
vegan butter to grease the baking dish
baking dish (20 x 30 cm)
#1: Minced Meat Sauce
Cut the onion and garlic into small pieces and sautée them with oil.
Add the minced meat, salt, pepper and herbs. Add the tomato sauce and, if the mixture gets too thick, a little bit of water. Allow to reduce for about 15 minutes, adjust the spices and set aside.
#2: Veggie Sauce
Cut the eggplant, zucchini, green onion and pepper into small chunks (about 5 mm).
Slice the Onion and garlic and sautée with oil.
Now add the pre-cut veggies to the pan and sautée them."
Stir in the tomato sauce and add spices. If the sauce gets too thick, add a little bit of water. Allow to reduce for about 10 to 15 minutes and set aside.
#3: Béchamel
Start with melting the vegan butter in a pot.
Add the flower and lightly sautée.
Remove the pot from the heat and add the milk while stirring with a whisk. Place on the stove again and heat up at medium heat. Add salt, pepper and nutritional yeast. Let cook until the sauce gets smooth.
Set aside.
#4: Putting it together: Finishing the Lasagna
Lightly grease the baking dish with vegan butter and add a spoonful of béchamel sauce.
Add 3 lasagna sheets and sprinkle some béchamel onto them.
Now it's up to you to decide the order: I like to start with a layer of veggie sauce, then adding italian herbs, some grated cheese and some more béchamel.
Add 3 lasagna sheets and sprinkle with béchamel. Now we add a layer minced meat. Take about 2/3 of the sauce and spread it over the lasagna sheets. Add some more italian herbs, grated cheese and béchamel sauce.
Add 3 more lasagna sheets and sprinkle with béchamel. The next layer is half veggie sauce and the rest of the minced meat sauce, herbs, grated cheese, béchamel.
For the last layer, we add 3 lasagna sheets with béchamel, veggie sauce, herbs, grated cheese and some more béchamel (this will make a slightly crispy layer on top when baking). Now all the sauces should be empty. If there's some béchamel left, you can sprinkle it onto the visible corners of the lasagna sheets.
Now the work is done and it goes into the oven (no need to preheat). 170°C with fan on or 180°C without for about 60 minutes. If you feel like the top gets too dark, reduce the temperature.
If your kitchen is filled with a delicious smell, the lasagna is ready to eat! Enjoy :)