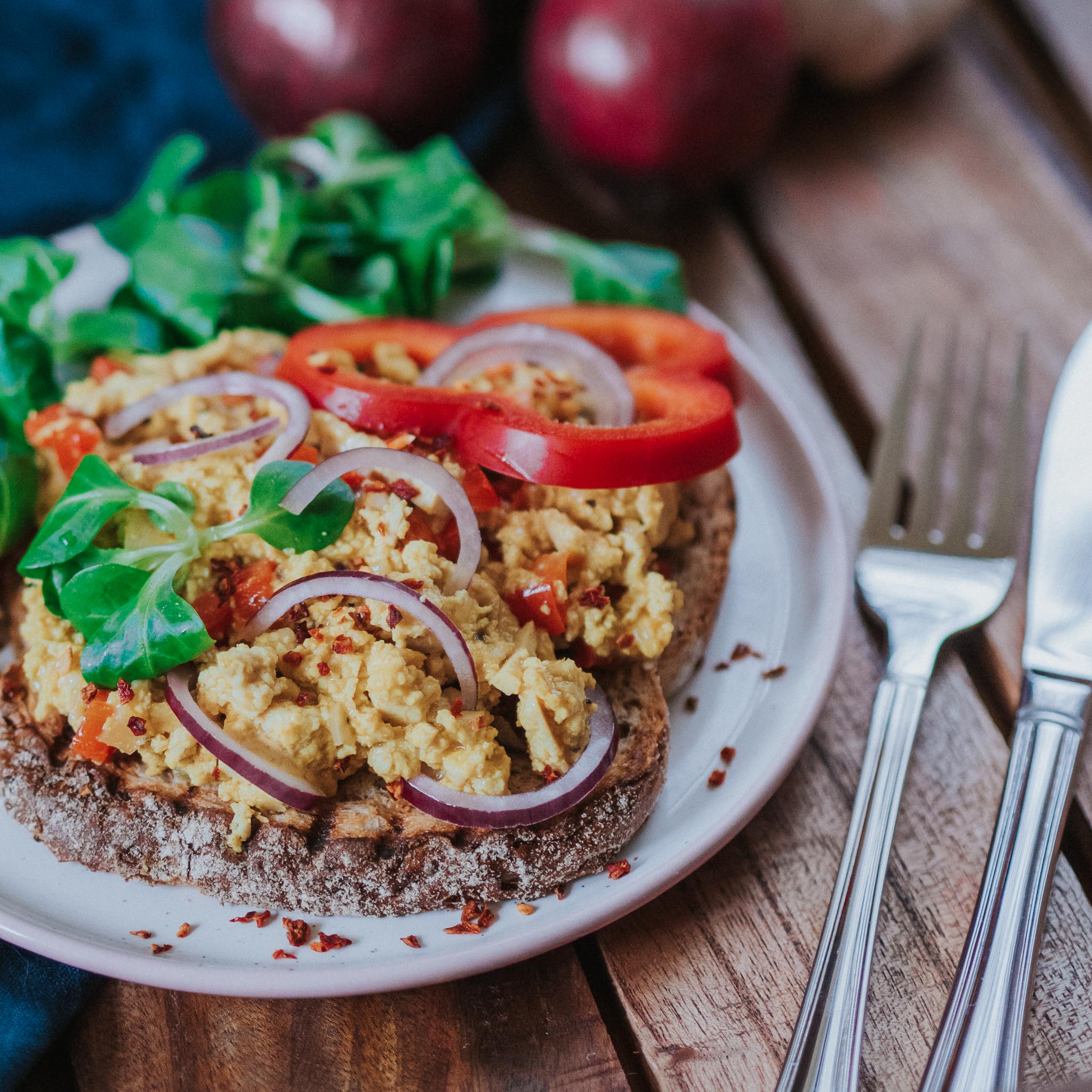 This scrambled tofu is the veganized version of scrambled eggs. It has that creaminess and whipped feeling to it. This makes a perfect (meal prepped) breakfast and will keep you full until lunch. I enjoy it especially in the colder months of the year, or when I'm craving something savory for breakfast.
I like to prepare the ingredients the night before (think: mixing the spices, cutting the vegetables, crumbling the tofu), so I don't have to do this in the morning. This way it's still prepared fresh, but most of the work is already done. I can throw everything in the pan, toast up some bread and breakfast is ready. You can also reheat it if you prefer.
It works best with the basic tofu that's firm and in a block. The black salt, kala namak, has a very eggy flavor, because of it's sulfur content. If you don't like it, you can just use a tiny bit or substitute with some regular salt.
Vegan Tofu Scramble
25min (with prepped ingredients: 10min) • 2 servings • easy
200 g tofu (block, firm)
1 small red onion (or half of a big one)
1 clove of garlic
1 red pepper
oil for frying
5-6 Tbl vegan cheese
40 ml of water (1 shot glass)
For the Spice:
1/4 tsp turmeric
2 tsp nutrional yeast flakes
1 tsp cumin
1/2 - 1 tsp kala namak (black salt)
1/2 tsp (garlic-)pepper
chili to taste
Start with mixing all the spices together.
Use a fork or your hands to crumble the tofu.
Cut the onion into small pieces.
Cut the garlic and pepper into small chunks.
Add some oil to the pan and start with sauteing the onions on medium heat, stirr occasionally.
When the onions are starting to look transparent, add the garlic and red pepper.
Add the tofu and the spice and mix everything together.
When the tofu scramble starts to look ready (after around 4 minutes), spread it evenly in the pan and lower the heat. Then, add a thin layer of vegan cheese and the water over the scramble and mix everything together.
Serve as-is or on a slice of toasted bread, with oven-baked potatoes or with other vegetables.