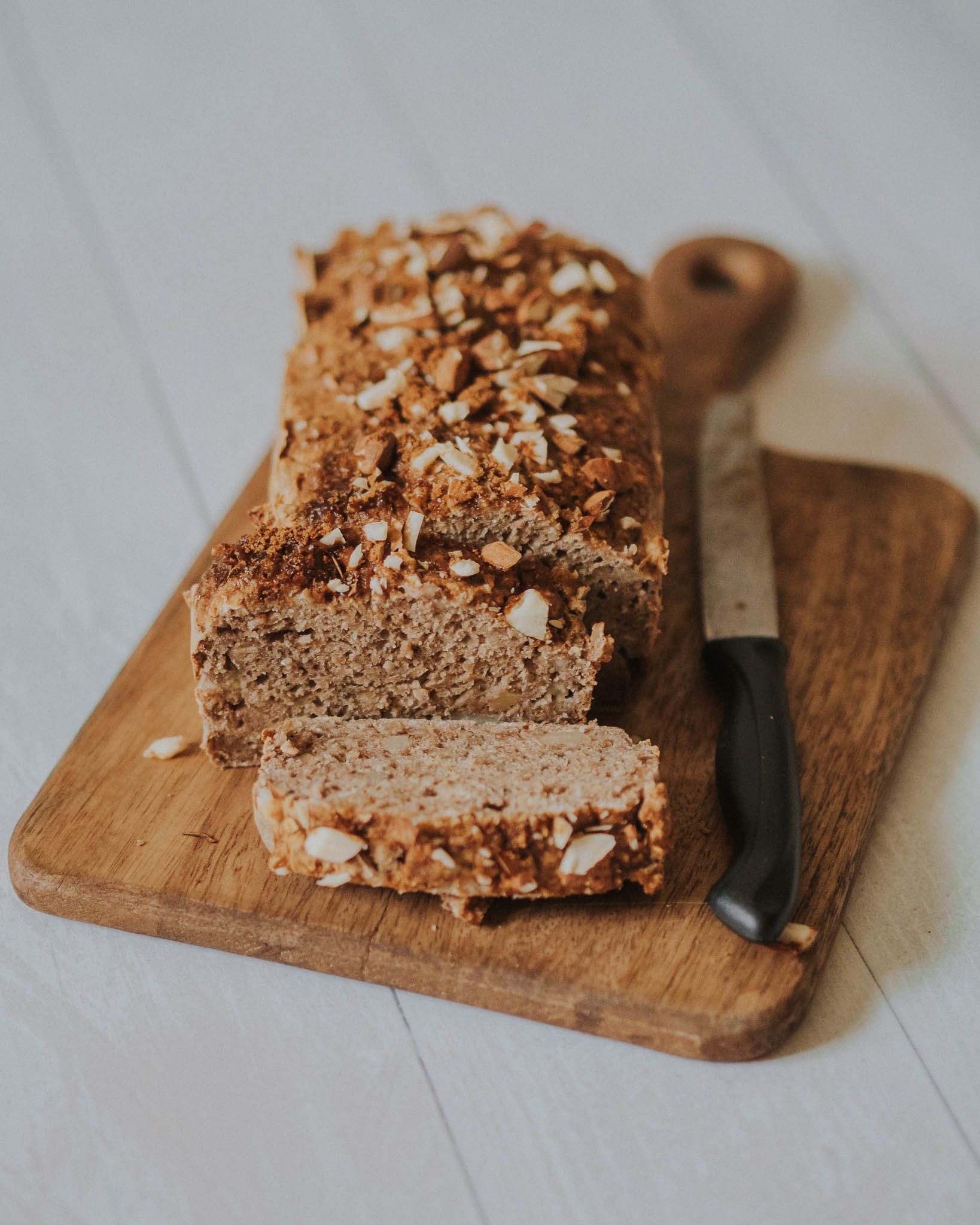 Is there something better than fresh out of the oven, still warm Banana bread? I just love the texture and the sweet-ish taste. Just like cake, but in a healthier version, that actually fills you up! Perfect for those of you that have a sweet tooth 😉
I often bake Banana bread if I know in advance that I might be short on time and/or won't have a good option to eat at (e.g. at university/travelling). It's a good option for a takeaway breakfast, lunch and snack because it's easy to eat on the go.
Depending on the oats you use, the recipe can easily be made gluten-free.
Oats are one of my favorite staple foods: healthy, tasty and versatile! Besides protein (ca. 12%) they contain fiber (10%), vitamins, and minerals. Even though oats are, in theory, gluten-free, most of the products suffer from contamination with gluten. Thus, please consider picking gluten-free labeled oats, when coeliac disease is an issue (more about gluten-free oats).
Buckwheat Flour is a gluten-free flour made from buckwheat. It contains protein (ca. 10%), fiber and carbohydrates, furthermore vitamins and minerals. It's a really nice gluten-free flour to bake with because it thickens up with fluids and binds the whole mixture.
Banana Bread
15min (+50min baking time) • makes 1 loaf (30x11cm) • easy
4 ripe bananas, mashed
100 g oats
a dash of salt
0.5-1 tsp cinnamon (opt.)
250 g buckwheat flour
1.5 tsp baking powder
40 g nuts, chopped (e.g. brazil nuts)
2 tsp chia seeds
200 ml plant-based milk
2 Tbl maple syrup
2 Tbl coconut sugar as a topping
Preheat oven to 180ºC.
Line a baking tin (mine is 30x11 cm) with baking paper.
Put the mashed bananas into a big bowl.
Add all dry ingredients; then add milk and maple syrup and mix with a whisk.
Put the mixture into the baking tin (opt.: sprinkle with coconut sugar).
Bake for about 45-50 minutes and let it cool down a little before serving.